The Mountain Cattlemen's Association of Victoria have signed a major sponsorship deal with Australia's premier country outfitter, RB Sellars.
Months in the making, the deal is about more than sponsorship – it's the coming together of two identities.
"The Mountain Cattlemen have been synonymous with country living since we first entered the High Country in 1835," MCAV President, Bruce McCormack, said.

"Since then, that image – a horsemen perched high on a plateau – has come to resonate with millions of Australians.

"It is fitting, therefore, that the MCAV has now partnered with RB Sellars – the clothing brand that bought quality country to the mainstream."
RB Sellars is a family owned Australian brand, formed in 1996 – the year the famous 'Burton' half button workshirt was released.
Run by Richard Sellars, the company knows the importance of family values and community, and has become a household name across Australia.
"On behalf of the whole RB Sellars team, Richard Sellars thanks all of our loyal customers from across Australia for their continued support - we're thrilled to be partnering with the MCAV and look forward to meeting you at the Get Together."
Together, the MCAV and RB Sellars want to promote a country life style, support farmers nation wide and remind everyone that sticking together through the good and bad, drought and flooding rains, is what makes Australian's great. 
RB Sellars merchandise is now available through the MCAV website, and will make their official debut at the upcoming Merrijig Get Together with a full display of co-branded RB Sellars MCAV products.
RB Sellars are also sponsoring the main cup events over the weekend, along with many novelties and fun family competitions.
"As a group that represents the average farmer, we are humbled that RB Sellars want to be a part of our history," Mr McCormack said.

"We are even more excited that they also want to be a part of our future."
To view the full range of MCAV RB Sellars products, head to the website at <www.mcav.com.au>, or for a look at RB Sellars extended lines visit <www.rbsellars.com.au>
For information on the MCAV Get Together, head to the website page or the groups Facebook page.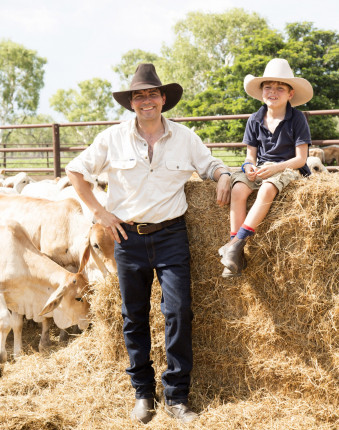 COMING TOGETHER: The Mountain Cattlemen's Association of Victoria and RB Sellars have come together to offer an exclusive line of workwear and country clothing, designed to fit in with every Australian lifestyle. Pictured is Richard Sellars, from RB Sellars.