Annual Get Together
2019 OXLEY
In 2019 Get Together was hot! Yet the shady Oxley site, eager contestants and goodwill from the crowd made a fun event. Thank you to the Rural City of Wangaratta and all of our sponsors for supporting our event.
Please fill out our survey. Your feedback helps us plan the next event with you in mind. Complete the survey and go into the draw for free tickets to the 2020 Get Together.
Photos and results will be uploaded as they come in.
2019 Get Together Facts
The MCAV 2019 G2G will be at Oxley Recreation Reserve near Wangaratta on January 11-13, 2019. Oxley Recreation Reserve is a beautiful shaded, picturesque setting on the King River. The land is a DWELP reserve.
TICKETS – Kids under 17yo and under are free, only ADULTS pay
Entry Gate Prices – same as online
3 day with camping on Friday $170 per adult
Single day ticket sold on Friday, Saturday or Sunday $30 per adult
If you are able it is well worth coming Friday and leaving Monday morning. The weekend is excellent value for money with 3 days and 3 nights of entertainment.
**Gates do not open until 9am on Friday. **
Bitumen road to the site boundary.
No glass please. We will be checking cars at the gate for glass vessels. If you have glass we will ask you either throw it out or we will store it until you leave.
Food and drink stalls on site. If you don't feel like cooking there will be full catering from daylight till after dark. All sorts of tasty take away as well as ice creams and other treats for the kids.
BAR - There is an excellent bar with a great atmosphere; we pride ourselves on responsibly serving a variety of beers, mixed drinks and wine all at reasonable prices. Ice is available to purchase for your camp. The bar opens at 4pm on Friday.
You do not need to book camping sites. Camp sites are 'first in best dressed'. Try to arrive during daylight to make finding and setting up camp easier. There will be a quieter camping area for families and people who don't want to party all night. Please do not camp in this area if you think you may have a loud camp! There is a designated horse camping area.
Showers and toilets are provided and regularly cleaned and serviced.
Fresh drinking water on site for everyone at no cost. Bring your own container.
Strictly no camp fires allowed.
Dogs Yes, you can bring your pet as long as it is kept on a leash or confined and is in good health.
You may bring your own food and alcohol but please remember no glass and please clean up after yourself. Bins are located throughout the event site, please use them.
There is a first aid tent with qualified staff located on site at the event coordination centre
Free Wifi has been provided by Telstra, Mobile reception is available, although it may be patchy.
The nearest town is Wangaratta (16km) with hospitals, motels, public transport, a huge variety of shops and supermarkets, post office, motels and banking.
The MCAV Board has a policy that Get Together events should reflect the traditional values and skills of Mountain Cattlemen and celebrate their rich history and heritage. It intends to maintain the event as a family friendly affair. It especially encourages families and horse competitors to attend. We want everyone to have fun!
2019 Get Together
New events on our list include: the dog water jump to suit the aquatic breeds! and a BBQ challenge; this is based on the Masterchef mystery box challenge, but the kitchen is a tent and the oven is a BBQ and there is a live audience. Sponsored by the Howes Creek Farm, it is sure to be entertaining on the first night in the bar. Horse novelties for the kids are another new event, held on Saturday morning, at least 5 novelty games will be run to ensure lots of fun.
We have new bar managers, Doug and Pete who will be ably assisted by Wayne Campbell and Bull Bar.
Oxley G2G will have great daytime entertainment and live bands and entertainment during the nights. Horse competitors can purchase tickets through their entry forms. For those on a tight budget there will be unrestricted numbers of day tickets on sale and there are many great camping areas nearby.
These changes have been made to ensure the event is sustainable moving forward. We are very happy to answer any questions that you may have.
The Oxley event will be great fun and I encourage you all to come and experience the event, by camping for three days or day visiting.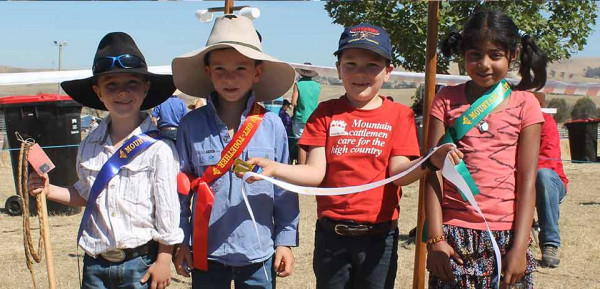 What our Annual Get Together is all about