Annual Get Together
2020 Merrijig January 10 - 12
Planning is now underway for our 2020 event, which will be held at McCormack Park in Merrijig just a few hours from Melbourne.
We are working really hard to make this our best Get Together yet. We have asked for feedback, and we have listened to your respones.
We know you want more events, more fun for the family, better value tickets and a celebration of the High Country history and heritage.
We are aiming to tick all the above, and much more!
So set aside January 10 - 12 in your diary now, buy your tickets now and prepare for a weekend you won't forget!
2020 Get Together Facts
GATHER ROUND, WE HAVE SOME INFO:
MCAV 2020 Get Together
Things you need to know
Bar:
Our licensing requirements for the bar area has changed.
This means you cannot BYO into the Main Arena area.
However, it also means there wont be a giant mesh fence separating the crowd from the bar – we want families to be able to enjoy the band together.
You can still BYO to your camp, and to other areas around the site.
The Bar will be open from 3pm Friday and 10am Saturday/Sunday for all your drink/ice needs
Camping:
We have 4 camping areas so that everyone has the best time possible.
These are Horse Camping, Family Camping, General Camping, Staff Camping.
You do not need to book camping sites, and it is up to you to choose which area you would like to set up in.
The Family camping will be very separate from General camping this year, so that there is minimum disruption to those who don't want to party all night.
Please don't camp in this area if you think you may have a loud camp.
For those that do like to party and get a little wild, please be aware no bad behaviour will be tolerated. If you muck up, you're out. No second chances. We are an event for all ages, and while we want you to have fun, it has to be done respectfully.
Camp sites given out on a first in best dressed.
Try to arrive during daylight to make finding and setting up camp easier.
You can bring your pop-up campers, caravan's or just your swag and Esky.
No powered sites or water provided throughout camping areas, but will be available in the Main Arena.
There is little to no shade in the camping areas, so prepare for the weather and bring your own shade/shelter.
Gate entry:
Tickets will be available throughout the weekend, with a 3 day ticket available for $160 at the gate, which includes all entertainment, use of amenities and 3 days of camping.
2 Day Ticket is $110
1 Day ticket $40.
Please be aware you will be charged the full price at the gate entry, and refunded the difference when you leave (must be by 10pm that night.)
This is the easiest way for us to monitor day visitors.
Tickets are currently discounted online.
If you know you are coming, we recommend buying as early as possible to save money.
Kids 17 and under are free.
Gates do not open until 9am on Friday.
General info:
No glass please.
Use all rubbish bag/bins provided to help our clean up job.
Strictly no camp fires allowed.
Dogs: Yes, you can bring your pet as long as it is kept on a leash or confined and is in good health.
Mobile reception is available, but may be patchy.
The nearest town is Mansfield (14km) with hospitals, motels, public transport, a huge variety of shops and supermarkets, post office, motels and banking.
Everyone this year has to purchase a ticket into the event; our Volunteers can get a refund at the Secretary tent after a coordinator has signed off their time.
The MCAV Board has a policy that Get Together events should reflect the traditional values and skills of Mountain Cattlemen and celebrate their rich history and heritage.
The MCAV intends to maintain the event as a family friendly affair.
It especially encourages families and horse competitors to attend.
We want everyone to have fun.
Any one causing trouble will be asked to leave the event.
There is plenty more information if you need it, email secretary@mcav.com.au
Most important of all, come along and HAVE FUN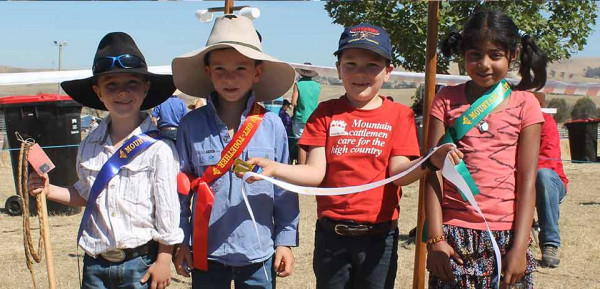 What our Annual Get Together is all about