Mountain Cattlemen
Caring for the High Country since 1834
MCAV G2G Ticket UPDATE
GET TOGETHER TICKET REFUNDS. We are currently processing refunds for all those who purchased tickets to the Merrijig Get Together. We aim to have them all refunded and processed by the end of January/start of February.
Welcome to the Mountain Cattlemen's Association of Victoria.
The Mountain Cattlemen's Association of Victoria (MCAV) represents a hardy group of people whose families and predecessors have grazed their cattle and maintained the Victorian High Country dating back to 1834.
NEW ONLINE MEMBERSHIPS
The new annual associate mcav membership section is now live.
Memberships are annual, and due 12 months from the date of payment
Please note that intially ALL members are required to register even if you are an existing member - this is the easiest way to get your details into the new online database.
Breaking News
MCAV partner with RB Sellars
THE Mountain Cattlemen's Association of Victoria have signed a major sponsorship deal with Australia's premier country outfitter, RB Sellars.
Months in the making, the deal is about more than sponsorship – it's the coming together of two identities...
In other news, we also have a new MCAV president, Bruce McCormack.
Pictured here with his son and granddaughter Cobie on Wonnangatta Station, you can read Bruce's inaugral president report below.
Photo thanks to Melanie Faith Dove.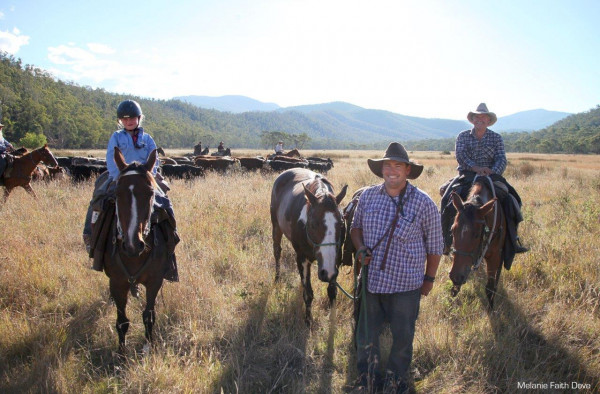 Bruce McCormack was elected as president of the MCAV at the September AGM.
ALTHOUGH this is my first time as president with the Mountain Cattlemen's Association of Victoria, my history with the group stretches back before I was born.
In fact, my family has taken cattle into the High Country for longer than the MCAV has been around – six generations before we pushed cattle into the mountains above Merrijig, where we call home.
I was elected as president of the MCAV in September – a role I am both humbled and excited to take on.
It has been a challenging time for us; as farmers, we are battling lower than average rainfalls, higher than average temperatures and the resulting reduction in feed for our livestock.
As Mountain Cattlemen, we are battling the constant threat of removal from the Parks.
The threats come not just from a Government hell bent on kicking us out, but also from skyrocketing deer numbers and dangerous fire fuel loads.
With the passing of the years I can see the difference our absence has made – 30 years ago my dad and I pushed cattle into the Alpine National Park.
Today, those same high plains are covered in blackberries, overgrown and good now only for the rabbits and deer that infest them.
Gone are the grassy openlands, the bridle tracks weaving through snowgums and the managed and controllable undergrowth.
Without cattle, and the associated management from the MCAV, the Alpine Park is becoming a weed infested wilderness.
Next month, my family and I will saddle up and take our small Angus herd to the King Valley.
There will be three generations on the trip, along with family, friends and those we hold dear.
It is an annual pilgrimage, and one that is sacred to not only the McCormack's, but to all those Mountain Cattlemen that continue to do the same.
Our heritage is linked so tightly to the High Country it is impossible to separate it.
There is not a family story that does not include reference to the mountains, rivers and valleys.
Despite this, the future of the MCAV is not as certain as it once was.
We have taken for granted that our place in Australia's history was assured – but that is no longer the case.
As Mountain Cattlemen, we must continue to fight for the retention of State Forest grazing licenses, used as a Park management tool.
As Bushmen, we must fight for the State and National Parks to be better than they currently are – that there must be stronger policies on deer management, on reducing fuel loads and on making the High County a place where all are welcome.
The Mountain Cattlemen's Association of Victoria is more important now than ever before.
Every member of the MCAV helps our voice grow louder.
Let's make sure our message is heard all the way to Canberra.
Catch you at the Get Together in Merrijig in January
Bruce McCormack
19-20 MCAV President