Our 2022 line up of entertainment looks pretty amazing, if we do say so ourselves!
2022 Live Entertainment
Friday Night the amazing Jade Gibson
Friday Night the Mason Boys
Saturday Night the best covers band ever with FICTION
Saturday Night get ready for the ever increduble Danny Phegan
Sunday Night relax with the family and sing along with Meg Doherty
Click here to watch Jade Gibson - We are beyond excited to welcome this North East Vic local to the G2G stage in 2022! She is amazing and such a great performer who engages with audiences of all ages.
Click here to watch The Mason Boys - These lads are famous throughout Vic for bringing a toe-tapping combination of country rock everywhere they go.
Click here to watch Fiction - If these guys don't get you dancing no one will. Prepare to bop, bump and wriggle your way along the dance floor with this amazing cover band. You are gunna love them.
Click here to watch Danny Phegan - No one family epitomises what it means to be a Country Victorian like the Phegan's. They bring the whole family, horses and dogs, compete during the day then bust out the guitars at night. To top it off, Danny's music videos are so popular on YouTube he even has ads - this guy is going to make your Saturday night.
Click here to watch Meg Doherty Meg has attended the Get Together as a guest before, and this year she will be our headline Sunday night act. We all know Sunday night is the best one for a bit of down time and relaxing, but it's going to be hard to keep off the dancefloor with Meg at the Mic.
The Don Kneebone Mountain Heritage Awards
All the Poets are again gathering to the fray at the Merrijig Cattlemen's this year.
Entries will be strong for the famous Don Kneebone competition held on
Saturday in the Heritage tent. Be early if you want a seat.
The Poets breakfast will be held on Sunday.
Click here to watch Maria Harkins - a past winner of the Don Kneebone Award.
Photography
There are two sections in the photo competition; Junior (Under 18 years of age) and Open. This year there will be three categories which will be announced in April. Please ensure all photos are entered on Friday (Oct 1) at the Event Coordination Centre by 2pm.
Plus lots more, including -
Forum - lets talk about logging, grazing and lots more
Swag rolling competition (all ages)
Heritage tent display
Friends of Wonangatta information and display
Mulga Bill Bike Race
Tug O War
Hay Stacking
Horse Novelties for kids to 17yo
Dog High Jump
Kids disco
Crate Climb & lots more!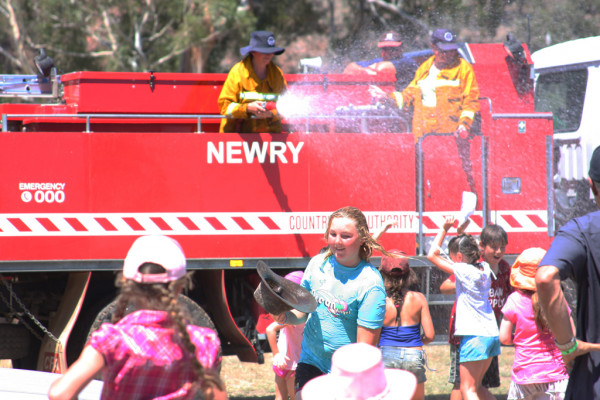 Kids Fun
Kids have the most fun at the Get Together. There is an activities tent during the day with face painting and lots of fun and games which in the evening becomes a kids disco.
Past Get Together Activity Gallery